Tips for Choosing the Right Summer Supplemental Education Program for My Child
June 21, 2023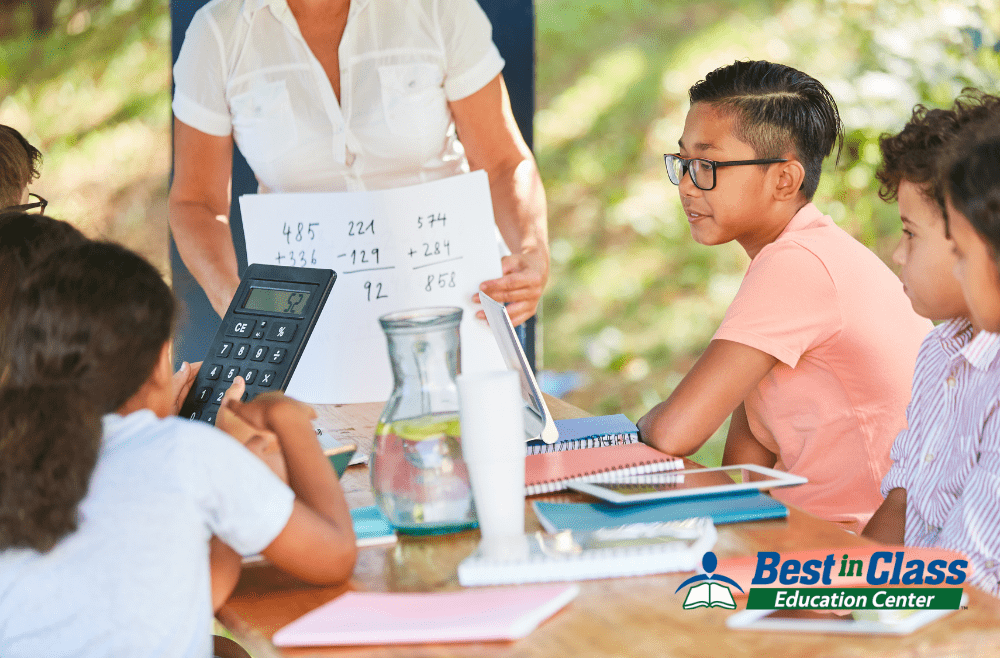 June 21, 2023
Summer is finally here! Packed lunches and early morning rushes can be put on pause for now. For many parents, that's a reason to rejoice! But along with the excitement of starting another fun summer with your child, you may also feel some trepidation. Like many parents, you're probably racking your brain to determine the best summer activity for your child.
Parents often decide to bolster their child's education with a summer supplemental program. But how do you choose the right program for your child? Here is a quick rundown of the different types of supplemental programs—and tips for choosing the perfect one!
What Summer Supplemental Programs Are Available?
Remedial Programs
Consider remedial summer programs if your child struggles with a particular subject or is prone to the summer slide. These programs can help your child get back on grade level so they are ready to succeed in the fall. Many schools offer summer school options. Private tutors and centers like Best in Class Education Centers also have programs offered at flexible hours to close gaps and keep children on track.
Enrichment Programs
What if your child is performing above grade level? You may be less worried about the summer slide but want to ensure your child is academically challenged so they don't get bored. Unfortunately, public schools are less likely to offer summer programs for children already at or above grade level. For these students, you may want to consider private tutors, online courses, or summer camps (offered at select Best in Class locations) that will challenge them.
College Preparation
Maybe your child is in high school and preparing to apply to their dream college. They don't necessarily need enrichment courses—by now, they can take advanced classes when school is in session. But, they may benefit from extra help to prepare for college, and SAT and ACT prep courses can help your teen feel confident for college entrance testing. Best in Class Education Centers offer private and small-group classes to give your teen an edge on SAT and ACT testing and a head start on their future.
Hobbies & Exploration
Your child may be doing well academically, so academics aren't your top summer priority. Instead, spending the summer exploring a hobby or learning a skill that interests them might be a great way to enjoy the long summer days. For example, many students enjoy taking painting classes, attending science camp, joining a youth theatre troupe, or learning photography. Fortunately, online courses offer flexible learning options, and camps are widely available for in-person participation.
How Do I Know What's Right for My Child?
If you're still unsure what program is right for your child, it's time to ask more questions.
Talk to Your Child's Teacher
You can't always tell whether your child needs additional remediation or enrichment based solely on their grades. In some cases, children who have mastered the material may earn lower grades because they aren't putting forth their best effort. On the other hand, a child who received a B in class may have done well on their assignments but could use some additional practice to cement the concepts. Your child's teacher should be able to help you identify learning gaps to close this summer.
Talk to Your Child's Guidance Counselor
Another great resource, especially for older children, is your child's guidance counselor. They can review your child's college and career goals and help them decide where to focus their time during the summer months. For example, if your child's dream school requires exceptionally high test scores, they may recommend SAT or ACT courses. On the other hand, many colleges value a resume filled with extracurricular activities and volunteerism. In these cases, the guidance counselor can suggest summer activities that look great on a college application.
Talk to Your Child
Believe it or not, some parents forget to talk to the person who will be attending the program—the child. If it's been a while since you've spoken to your child about their interests, career plans, and college goals, it may be time to check in. For example, you don't want to sign them up for piano lessons only to find out they no longer wish to play. Your child can also tell you whether they are struggling in any subject or want to study a topic more in-depth.
Request Information from Programs
Once you know the type of program you're looking for, it's time to request information. Make calls, talk to friends about the programs they've found, and visit each program's website. Don't be afraid to keep looking if a program isn't the right fit. The best match for your child is out there!
We're All About Great Summers!
If your child needs help with reading or math, wants to improve their test scores for college, or needs additional enrichment, Best in Class has a variety of programs to meet their needs. We have several programs to keep kids of all ages engaged and moving forward while having fun! Contact us today to learn more about our private tutoring, group classes, and test preparation programs.
At Best in Class Education Centers, our passionate teachers and quality curriculum make all the difference.