7 Fun Math Practice Ideas for Summer Vacation
May 31, 2023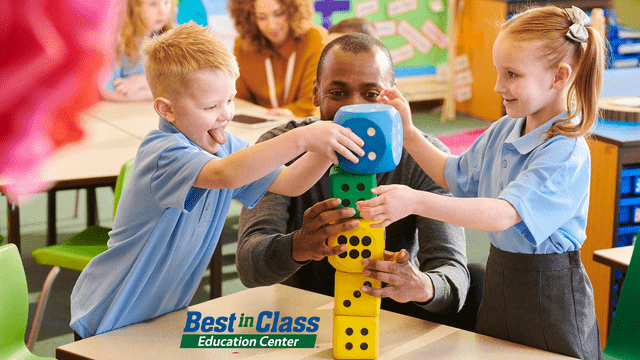 May 31, 2023
The last backpack has been unpacked, and homework is done for a couple more months. Summer break is finally here, and kids all across the US are looking forward to the long days of playing outside, splashing in the pool, and staying up a little later than usual. In addition, many families are preparing to take annual road trips or take to the skies for far-away adventures. We all need vacations, adults, and children; however, you may be pondering the right balance of play and practice to keep your child's academics on point for the fall. Best in Class Education Center wants to remind parents that there are simple ways you can let your child experience all the summer fun while finding natural opportunities to embed learning. Therefore, we've created a list of seven fun math practice ideas sure to keep children's faces smiling and minds sharp.
1) Calculate the miles. If you're taking a road trip, have your child use the "miles to" signs on the road to calculate the approximate arrival time to the next city or town along the way. You can also have them figure out how long it would take to run, walk, or bike to where you're headed.
2) Play describing games. Young children will enjoy a simple game like "I Spy" that's easy to play in a car or plane. Encourage them to use geometric, size, and weight descriptors to give clues to the rest of the family.
3) Have your child calculate (or estimate) the total trip cost. They will get practice with calculations and may also develop a greater appreciation for their vacation experience.
4) Find local learning spots. Look for interactive children's museums, aquariums, natural history museums, and state parks. Museums and parks are full of real-world math concepts. Plan your itinerary to visit and explore a few new and interesting places.
5) Collect data! Your child can count the number of license plates from different states they see or the number of restaurant types along your journey and then graph their findings.
6) Create itineraries. Children can get practice with time concepts by creating suggested itineraries for their days away to include places to visit and times for meal breaks.
7) Keep an observation journal. Let your child get creative and draw the things they see, like something as simple as a food truck in the city and the cost of their hot dog and ice cream, or as complex as the starry night sky at the beach. Use star finder apps to look up the distance of the stars you see together and watch your child's wonder and curiosity as they explore their daily surroundings.
Math is all around us, and it isn't too hard to use summer vacation experiences to explore math concepts. If you're looking for extra practice over the summer, when you return home, contact us for more information on summer sessions at one of our many Best in Class Education Centers.