5 Fun Ways to Improve Your Child's Vocabulary at Home and in the Community
October 25, 2023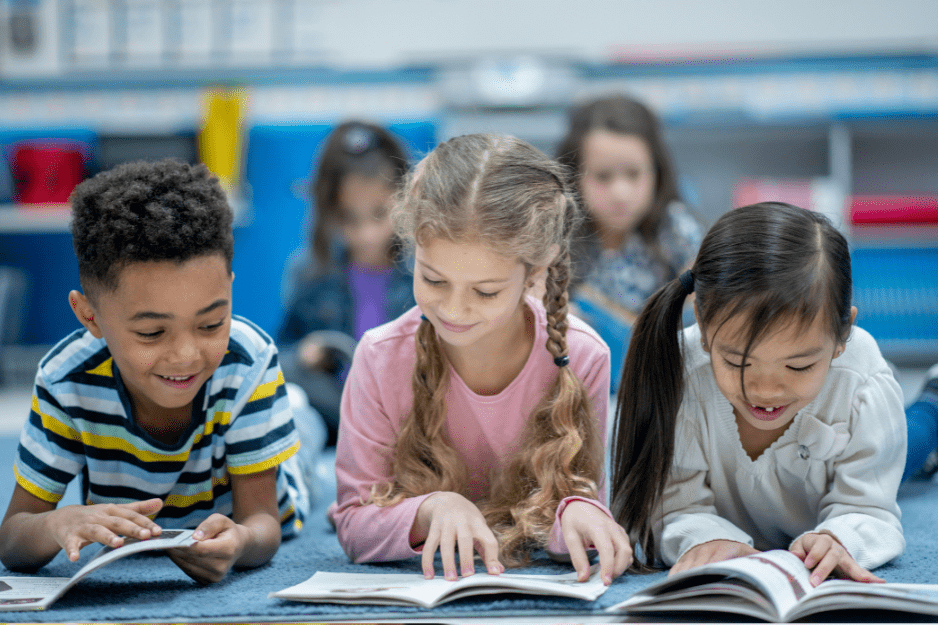 October 25, 2023
Whether your child is in kindergarten or high school, there is one skill they will always be able to improve—their vocabulary. Strong oral vocabulary improves all areas of communication, from listening to expression to literacy. Ensuring your child's vocabulary is appropriate for their grade level (or better) will help them improve their understanding of classroom information, express their knowledge and opinions, formulate questions, and connect general world concepts.
Whether you have concerns about your child's vocabulary or just want them to get ahead, look no further. Here are five ways to improve your child's vocabulary.
Get Them Reading
When it comes to growing a robust vocabulary, reading is critical. Even though we can expand our vocabulary through listening and conversation, reading offers unique advantages for vocabulary-building.
The self-managed pace of reading helps us acquire new words. While it's not always easy for students to press pause in a conversation or a lecture to ask the meaning of a word, they can slow down to better process unfamiliar words when reading. Students can reread, use the surrounding context, ask for a definition, or find the meaning of an unknown term.
There are other ways that reading is a unique vocabulary teacher. Reading allows us to encounter words in their natural environment—a fully-formed sentence. The context helps us learn proper word use, exposes children to multiple-meaning terms, and reinforces words' orthography (spelling) and morphology (structural makeup).
If your child is a reluctant reader and you'd like more help getting them reading, visit another of our tip-packed blogs.
Help Them Find Vocabulary Practice in Unexpected Places
Although we always encourage reading books, they don't need to be the only place to spot new vocabulary words. More activities than you may realize can present opportunities for vocabulary growth.
Vocabulary-learning opportunities abound when you and your child are out and about in the community. While you shop for your grocery list, help your child think of categorical vocabulary. For example, if you need spaghetti noodles, you can ask your child to think of the aisle label they should search for to reinforce broad classification vocabulary, which is often how we find information and items around us. Encourage your child to look at ads, signage, and products you come across while running errands. You can discuss unfamiliar words on a sign at the doctor's office or a play on words splashed on a highway billboard. Vocabulary is all around us, and the learning opportunities are virtually endless.
Find Vocabulary-Rich Games
Games can provide rich contexts for new vocabulary learning. Board games can encourage vocabulary comprehension, as your child must read the directions to engage in play or express vocabulary for guessing or clue-giving games.
Even free apps on their tablet can let your child do word searches and other games that can introduce new words and encourage recall. Make the most of these opportunities by playing these games with your child and asking them about new and challenging words you come across.
Although some games indirectly teach vocabulary, you can also find games that teach it intentionally and do it well. These interactive games engage children, because they promote active learning in a social setting.
Want a couple of game suggestions? Reading Eggs can help younger children build their vocabulary and reading comprehension. Middle and high-school students can use apps like Elevate to improve their language skills or classic games like Taboo or Apples to Apples to stretch their expressive language skills.
Discover Where Your Child Can Listen for New Words
Reading is excellent for building your child's vocabulary, but so is listening! Hearing new words in conversations gives children rich language exposure. Listening also helps children hear correct pronunciation as well as connotations.
Some fantastic listening opportunities can be found in the following:
Podcasts
Television shows and movies
Audiobooks
Music
Conversations with friends and family
Plays
Listening to words can be educational and entertaining. It's also often an easy way to build language while you and your child are on the go!
Get Your Child Writing for Fun and Creative Expression
Children often only associate writing with classwork, but you can help your child exercise their vocabulary and discover the joy of writing by guiding them to put pen to paper for personal enjoyment. Here are a few ways you can encourage your child to write more:
Provide them with a prompted journal (also good for social-emotional skills).
Write silly or scary stories together, trading off the writer for each sentence or paragraph.
Have your child write reviews of toys they've received.
Connect them with a penpal to exchange letters or emails.
Need More Support?
If your child needs help to improve their vocabulary or could use extra enrichment, reach out to our team at Best in Class. Whether your goals for your child are to increase vocabulary growth to improve reading or achieve a great SAT, we can create a success plan for them. Contact a center near you to get your child on the fast track to learning today.
At Best in Class Education Centers, our passionate teachers and quality curriculum make all the difference.